Welcome to an Introduction to the National Association of Parental Alienation Specialists free podcast series, intended to introduce you to the topics covered in our "Effective Litigation of Parental Alienation" education courses, as well as the training options offered.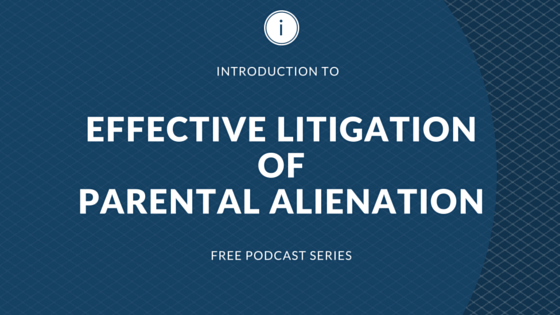 LISTEN
Hosted by: Robert A. Evans, Ph.D. and J. Michael Bone, Ph.D.
Click here to download the transcript for this podcast.
This podcast series will include nine essential topics for Family Law Attorney's presenting Child Custody Cases involving Parental Alienation to the court. Future podcasts will provide information on the following topics:
Learn how to organize the information in a manner that will reveal the alienation
Learn courtroom strategies to argue for or deflect arguments involving Parental Alienation in your family law cases
Learn how to defeat misinformation and falsehoods about PA which are used as distractions to a judge
Receive concrete suggestions on how to develop a trial strategy for PA cases to include:

examination and cross examination of experts
critically reviewing child custody evaluation
understanding the reliability of children's testimony

Learn about effective reunification programs that can be recommended to the court
NEW CLE APPROVED COURSE
The National Association of Parental Alienation Specialists will be conducting a 2-Day Symposium on Effective Litigation of Parental Alienation on October 15th & 16th, 2016 in Miami Florida, join us! Click here for event information and registration.